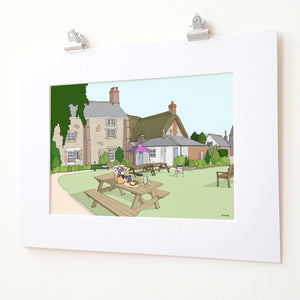 This giclée print celebrates this Swindon literary landmark, the birth place of Richard Jefferies. The garden is a haven for visitors and many are inspired to be creative by the Mulberry Arts project.
The illustration is created with a hand-drawn sketch which is then explored and enhanced using a simple digital colour palette.
Printed on high-quality fine art paper, your print will be delivered in a snow white mount – overall size is 400mm x 300mm. This is an open edition print.
Whether you want to celebrate a specific event, evoke happy memories or simply enjoy the beauty of this wonderful building, this is a true celebration of Swindon.
Free UK 2nd class post and packing are included in the price shown.