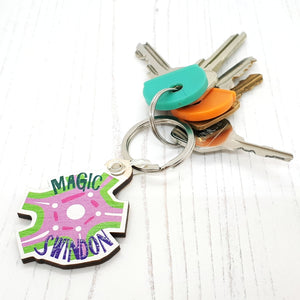 The Magic Roundabout in Swindon is a worldwide phenomenon & is either famous or infamous to local Swindonians. I've created a brightly coloured graphic design to represent this unique landmark and have had it printed onto various wooden gifts.

This attractive brightly coloured wooden Swindon keyring sits comfortably in the hand and is a tactile way to carry your keys.
It's a perfect easy-to-post present for popping inside a card.  It would be a fabulous keyring for car or van drivers, cyclists, shed owners, your house or flat keys, the caravan or camper van keys, your holiday home or those pesky padlock keys you keep losing! Not only that but it could also be a great bag decoration, zip pull, belt decoration, and a super addition to any collection. And you can even write on the reverse too!
Made of 4mm responsibly sourced, fast-growing Maple veneered MDF. and hand-signed by dona B on the reverse the colour is printed with a matt finish and the text is gloss finished. The shiny metal split ring is connected to the balloon with a solid clear plastic clip. The balloon charm is 4cm long by 3cm wide and the ring is 3cm in diameter.
The keyring has no packaging but is wrapped in tissue paper and popped in a coloured paper bag to keep it safe. Proudly designed by dona B drawings and printed and laser cut in the UK.
UK 2nd class post and packing are included in the price shown.