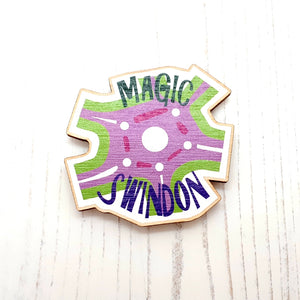 The Magic Roundabout in Swindon is a worldwide phenomenon & is either famous or infamous to local Swindonians. I've created a brightly coloured graphic design to represent this quirky & unusual landmark and have had it printed onto various wooden accessories.
The Magnet is 5cm across
and is made from responsibly sourced, fast-growing 4mm Maple veneered MDF. The UK based printers use environmentally friendly materials, whilst actively supporting responsible woodland management schemes

Please note that wood is a natural material, meaning that each sheet's colour, grain, and texture will be different from the next. 
Hand signed on the reverse by dona B it is packaged in tissue paper and a mini paper bag for protection. Perfect to brighten up your fridge or share the fun with a friend.
Prices shown include 2nd class UK postage and packing.