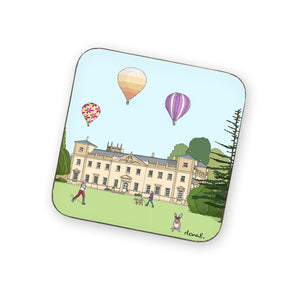 Celebrate the beauty of Swindon with this lovely Lydiard House & Park, Swindon coaster. With its glossy finish and quality materials, this coaster showcases the popular destination's stunning country house and historic architecture. Let your table decor bring a memory of Swindon back home to you with every drink!
Lydiard House, Swindon's Paladian landmark, with its wonderfully restored interiors is a must see when you visit the town. The surrounding parkland is also a favourite with runners, dog-walkers and people looking to enjoy the sunshine.
This is part of a range of illustrated Swindon coasters printed on MDF hardboard with a high gloss finish. Each one depicts an iconic view of the town bringing a touch of local arty colour to your home or making a lovely gift for someone. 
Made of 3mm MDF with a full colour quality gloss surface this attractive square coaster with rounded corners is 9cm x 9cm and is designed to look beautiful and be hard wearing. Clean the gloss surface with a soft damp cloth to avoid scratches. The reverse is dark stained unvarnished mdf.

See the sets of 4 or 6 in a separate listing that include a gift box too.
Free UK 2nd class post and packing are included in the price shown.