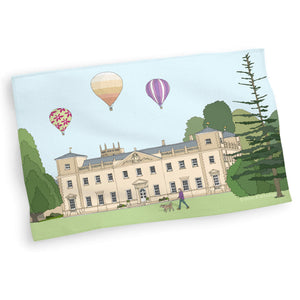 Transform any kitchen with this beautiful Swindon tea towel! Featuring a charming hand-drawn illustration of Lydiard House, this donaB tea towel is perfect for gifting to Mums, Grans, and newlyweds. Crafted from 100% cotton, it's a must-have for any Swindon souvenir collection. Add a touch of style with this special Swindon tea towel!
This quality cotton tea towel makes a great gift for Swindonians everywhere bringing back memories of Summer family picnics, firework displays or simply walks with the dog . It can also be framed for a unique wall display and can been used as sustainable wrapping for those extra special Swindon gifts.

100% cotton
Each tea towel is hemmed on all four sides and comes complete with a hanging loop.
Overall size approx 50x70cm - actual size may vary as all hand machine sewn.
Wash at low 30 degrees temperatures only.
Iron on reverse.
Packaged with a belly band and in a cellophane bag to ensure it arrives with you safely.
Check out the other designs listed in my shop as there's something for everyone. 

Proudly printed and produced in the UK.
Free UK 2nd class post and packing are included in the price shown.