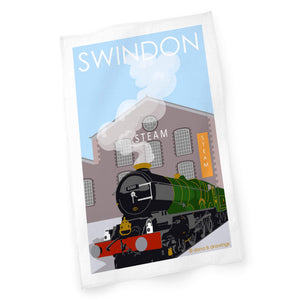 Commemorate Swindon's railway heritage with this 100% cotton tea towel featuring a striking Deco style railway poster of Swindon's STEAM Museum, an iconic steam engine and billowing steam clouds. This eye-catching design will bring back memories of your visits or maybe inspire you to discover the fascinating history of Swindon.
This quality cotton tea towel makes a great souvenir for Swindonians everywhere bringing back memories of Museum visits and steam train adventures. It can also be framed for a unique wall display and can been used as sustainable wrapping for those extra special Swindon gifts.

100% cotton
Each tea towel is hemmed on all four sides and comes complete with a hanging loop.
Overall size approx 50x70cm - actual size may vary as all hand machine sewn.
Wash at low 30 degrees temperatures only.
Iron on reverse.
Packaged with a belly band and in a cellophane bag to ensure it arrives with you safely.
Check out the other designs listed in my shop as there's something for everyone. 

Proudly printed and produced in the UK.
Free UK 2nd class post and packing are included in the price shown.