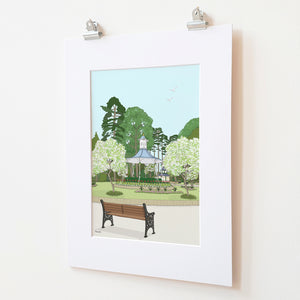 This giclée print celebrates this popular Swindon destination where people gather to enjoy the glorious park, blooming in the Spring and the regular local band performances in the sunshine.
The illustration is created with a hand-drawn sketch to celebrate the bandstand's setting and Victorian beauty, which is then explored and enhanced using a simple digital colour palette.
Printed on high-quality fine art paper, your print will be delivered in a Snow White mount – overall size 300mm x 400mm which makes it easy to frame yourself. This is an open edition print.
Whether you want to celebrate a specific event, evoke happy memories or simply enjoy the beauty of this wonderful park, this is a true celebration of Swindon.
Free UK 2nd class post and packing are included in the price shown.